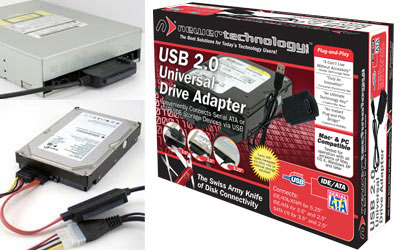 One of the latest gee whiz inventions in the past few years are the flurry of USB to IDE/SATA adapters. While technicians like me find them indispensable, other "mere mortals" can find some real handy uses for these gems. Storage leader Newertech has constructed one of the best USB bridges out there: the
Newertech Universal Drive Adapter.
While
Newertech's name
is familiar to Mac enthusiasts and historians (including going
bankrupt
and leaving some rather
upset customers)
, it's only connection with that past company is the name and hopefully tradition of quality. So far the newer Newertech is carrying the torch well. Newertech and
Otherworld Computing
are sister companies, so OWC is the main place to buy the "new" newertech stuff.
The Universal Drive Adapter allows practically any hard drive (or optical drive) to be attachable to your current Mac via USB. Because the hard drive isn't protected in a case, this is not a long term solution. If you want to use a internal hard drive via usb (or firewire) over a extended period of time, purchase a quality external case.
I've gone through quite a few of these usb bridges. Beware and be aware of awfully cheap USB bridges. They too often break due to inferior plastic and one I owned actually started smoking (didn't exactly give the customer a great sense of confidence): in other words, awful. Cheap and trusting data often don't go along well in the same sentence. I'm impressed with the quality of this Newertech device. It's well constructed and has withstood months of heavy use by me. Other World Computing is great about standing behind their products, so I wouldn't trust my hard drive to anyone else.
USB bridges are primarily used by technicians to temporarily attach a hard drive or dvd drive to another computer for backup or data transfer. So you aren't a tech? No problem. I suspect there isn't a reader out there that doesn't have at least one old computer or hard drive lying around. You probably left it in the closet because you know that you have personal data on it and didn't want to just throw it in the trash or you are simply afraid you might need the data "at some point". Now you can simply pull the hard drive out (OWC has great
videos
on their website on hard drive removal) and use it on your current Mac. A backup of your old computer is easily accessible should the need arise. By the way, you can easily use hard drives from Windows machines on your Mac...or even use this on a Windows machine. Perfect for switchers....pull the hard drive out of your PC and attach it to a Mac.
What I think is the best use of those old hard drives, however, is backups. Take an old ten or twenty gig hard drive and hook it up to your Mac and backup your current Mac. Often that hard drive will hold more data than a USB flash drive and DVD combined. . If you have a Intel based Mac, you can even boot off a USB drive. If you rely on your Mac, you owe it to yourself to have some way to boot your Mac in an emergency. Since you only need it in emergency, you can save yourself a few bucks by buying a cheap IDE drive and keep this close at hand.
Every IT department should have one of these (I do!). Actually, they probably do, but not made by Newertech. When your existing one breaks for the fourth time this year, spend a bit more and get a quality one. However, small office/home office users with older computers lying around can save space and put that valuable storage space to good use.
Pros: Sturdy, reliable way of adding practically any hard drive to your Mac
Cons: A bit pricey, but you get what you pay for often. This device, like all USB bridges, are for temporary use only. It would be nice if it had firewire
Article was republished by the Lawrence Apple User's Group 2.0
here
as well as other groups listed on the right