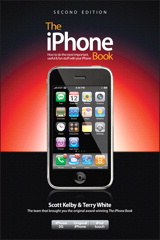 Sometimes sequels are
better
than the
original
and sometimes they are
worse
. Then there is the genre of movies that shouldn't have been made in the
first place
, much less a
sequel
. The iPhone Book falls into the latter category. Kelby and White again fail to deliver a useful iPhone book for the money. For the price, the average iPhone/iTouch user would be better off with another book. The information in The iPhone Book is technically accurate and helpful, but there is simply not enough of it. Much of the space in the book is filled with iPhone screenshots and "too much information" about the author's personal lives and not enough iPhone facts.
Similar to the original version, each iPhone concept is devoted one entire page, no matter how complex or simple the subject. Turning on vibrate mode on your iPhone is given the same space as iTunes library syncing as setting up email accounts. If the superfluous white space and screen shots were taken out, the book would probably be about 1/4 it's current size. The target user for this book is someone who probably wouldn't normally buy a computer book. With the pictures and white space it's a quick and easy read and allows the reader to pick up the book without having to remember where they left off. The reader will have a basic understanding of the critical aspects of the iPhone in a very short period of time.
Overall, the book is easy to read, but would only be helpful to the absolute beginner new iPhone or iTouch users. Again, this review is short because the book is so short!
Pros: Quick to read and easy to understand
Cons: Not enough helpful information and explanations
2 out of 5 Dogcows
Article was republished by the Lawrence Apple User's Group 2.0
here
as well as other groups listed on the right