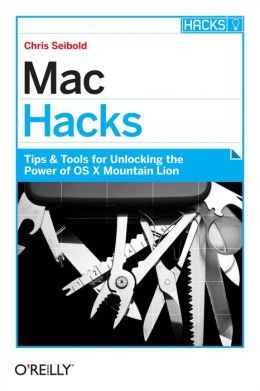 A great example about "never judge a book by it's cover" I expected this book to be a book about how to get the most out of OS X. Tips and tricks to extend the OS beyond what Steve Jobs envisioned. While a few gems were included, most of the tips had nothing to do with the power of OS X and more about hardware and many of the tips were only marginally Mac related such as securing a Linksys router or using a Wii Remote with your Mac.

These tips and projects were either extremely basic such as installing and backing up Mountain Lion (sigh) or completely unproductive and complex projects such as a dye job for your Macbook. I was particularly annoyed with the chapter on torrents which didn't cover the risks of malware (rare, but not impossible on the Mac) and the legal and copyright implications of doing so. That was completely unacceptable in my opinion.

Read the table of contents and see if these projects interest you and if so, the book may be for you but for most people this won't increase their productivity or "unlock the power of OS X". I found the book had some amusing ideas and a series of tricks that were cool but nothing to write home (or a book about).

Pros: Interesting projects and a few helpful tips
Cons: Little in productivity or value enhancement for your Mac

Two out of Five Dogcows
Article was republished by the Lawrence Apple User's Group 2.0
here
as well as other groups listed on the right.